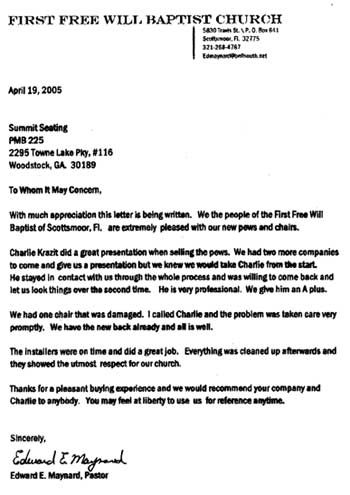 We really enjoyed working with Pastor Edward on the their new pews and chairs. We love when we get a "Thank You" letter, on behalf of the church congregation, especially one like this!
To Whom It May Concern,
With much appreciation this letter is being written.  We the people of the First Free Will Baptist of Scottsmoor, FL. are extremely pleased with our new pews and chairs.
Charlie Krazit did a great presentation with selling the pews.  We had two more companies to come to give us presentations but we knew we would take Charlie from the start.  He stayed in contact with us through the whole process and was willing to come back and let us look things over the second time. He is very professional. We give an A plus.
We had one chair that was damaged.  I called Charlie and the problem was taken care of very promptly.  We have the new back already and all is well.
The installers were on time and did a great job.  Everything was cleaned up afterwards and they showed the utmost respect for our church.
Thanks for a pleasant buying experience and we would recommend your company and Charlie to anybody.  You may feel at liberty to use us for reference anytime.
Sincerely,
Edward E. Maynard, Pastor